We're Getting Mutants in the MCU - The Loop
Play Sound
| | |
| --- | --- |
| | The eel slips silently through the subterranean lake, waiting for unsuspecting prey to set foot in its dark waters. |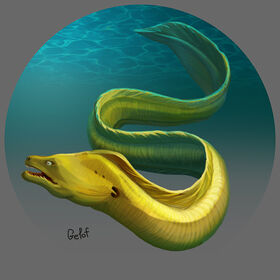 "The eel moves quickly, moves erratically, never sleeps, is at home in water, cannot venture onto dry land and submerges"
Eels are found in bogs, shallow and deep waters. A lone Eel can easily dispatch a lower level adventurer who sets foot into the waters, and packs of them can quickly whittle away the defenses of even sturdy, dungeon-hardened adventurers. With erratic movement, the ability to submerge to hide from view, quick regeneration, and an impressive attack/defense for their starting depth, attempting to fight one with your starting gear is almost certainly going to drain you to critical HP, and very likely will be fatal.
Fortunately, like any water-locked foe, eels cannot attack something that doesn't stand in or next to the water, and that includes flying mobs or levitating rogues. Just like Krakens or Bog monsters, potions or charms of levitation are well utilized when it seems unlikely that you'll be unable to return to the relative safety of dry land. For that same reason, a staff of conjuration is a wonderful way to help rid lakes of their eel population, as the blades can attack the eels, but the eels can't return the favor.
Due to a change to submerging in 1.7.3, submerged monsters cannot be hit by any ranged attacks (throwing darts/weapons or attack staves). Your chance to take 'em down is either from a lucky melee strike on a submerged eel, or when they pop to the surface to attack!
Monsters
The charming inhabitants of the dungeon: